Our curriculum encompasses an enormous body of TMC developed, interdependent material comprised of five (5) key skill-building areas.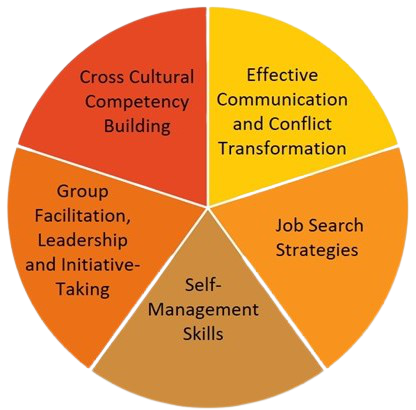 Begins with the assumption that participants are competent and have valuable expertise to share.
Activate! Acquire! Apply!
Our Learning Activities tap into adult learners' internal motivations and prior knowledge, accessing life experiences as an important resource for learning. Participants learn experientially, applying their enhanced understanding in the practice of useful behaviours.
The Momentum Centre, Inc. employs a comprehensive set of group facilitation tools and processes in advancing participants' empowerment and effectively delivering the curriculum.
Evaluation and Assessment
Evaluation and assessment play a pivotal role in every aspect of the work we do, an integral part of every learning activity in all five (5) key skill-building areas of the curriculum.
Constructing assessment components throughout the stages of programming allows us to stay on top of and address emerging issues and trends as they arise, adapting and adjusting in the moment.